Warner Linear offers a full line of standard electric actuators, each specifically designed to meet the needs of light-duty, general-duty, or rugged-duty applications. All are engineered for maintenance-free, long-life service, providing maximum value for our customers. Our electric actuators are engineered and produced using quality components from ISO registered key suppliers.
Warner Linear provides a full line of actuator controls well suited for a broad range of application needs. They range from simple to use switch box controls for basic extend/retract function, to state-of-the-art microprocessor based digital electronic controls using SMT design and manufacturing processes.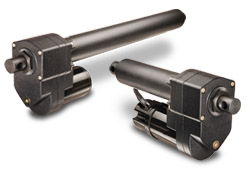 Linear actuators are ideally suited for intermittent duty cycle applications requiring lift/lower, push/pull, positioning, sorting, opening or adjusting on both in-plant or mobile applications. The first generation of general purpose actuators were developed for remote push button control of accessory drives on garden tractors and automated farm equipment.
Warner Linear actuators incorporate high strength, high quality components and are designed to assure trouble-free service. Rugged spur gearing, industrial quality synthetic lubricants and high performance motors combine to provide maximum capability and value for the end user. Units are gasketed and sealed for operation in industrial and mobile outdoor applications. Thermal overload switches are included for motor protection; and high performance corrosion protection features are standard.
Actuator Controls

Warner Linear controls are state-of-the-art using surface mount electronic components and automated circuit board manufacturing methods. Each control is field durability tested for use in demanding applications.
Simple plug-and-play switch box controls are hassle-free – just plugin and connect the power clips.
Basic position controls are integrated with the actuators to simplify ease of use and maintain the rugged duty capabilities of Warner Linear actuators. They are easy to use and plug-and-play ready.
Advanced microprocessor based controls are also available. They employ digital electronics using SMT processes and offer a broad range of intelligent actuator control options. Consult your Warner Linear technical specialist on how advanced controls might suit your needs.