Ameridrives Couplings began manufacturing in 1928. Through the years Ameridrives has become a pioneer and global leader in advanced coupling technologies that compensate or minimize the effects of unavoidable misalignment and end movement of coupled shafts. Utilizing advanced testing, analysis and manufacturing processes, Ameridrives provides highly-engineered coupling solutions to meet challenging customer requirements.
Ameridrives offers a wide range of products including Amerigear gear couplings and mill spindles, high-performance Ameriflex® diaphragm and Ameridisc® couplings, TurboFlex GC® disc couplings and Ameriloc® shaft locking devices.
Extremely reliable Ameridrives products are hard at work in key industries including power generation, oil & gas, metals, textiles, energy and mining on applications such as gas and steam turbines, compressors, generators, fans & blowers, pumps, crushers, marine/offshore platforms, rolling mills, cranes, draglines and shovels.
For Assistance in choosing the best coupling for you application Call or Email us.
800.456.8580
sales@torpeydenver.com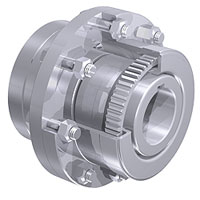 Ameridrives Amerigear O'Ring Seal Gear Couplings were designed in the early 1950's when the Amerigear Fully Crowned Gear Tooth was patented. In contrast with ordinary gear tooth forms, all three working portions of the tooth are crowned. The teeth are capable of sliding freely in the axial direction without digging or gouging the internal mating teeth.
Mill type spindles deliver maximum torque capacity under severe shock loads, while operating at relatively high angles. Gear sections are made from forged alloy steels with heat treated teeth. Hub gear teeth are Fully-Crowned to provide maximum torque capacity with minimum backlash. Onepiece, molded lip-type seals, designed for operation under misalignment conditions, provide the most effective closure available to keep lubricant in and contaminants out. All spindles are designed so that the contact point of the thrust button is located on the centerline of the gear mesh. This provides ball and socket action, rather than the sliding motion that occurs if the contact point is located on the thrust plate.
Designed specifically for the rigorous demands of the turbo-machinery industry, the Ameriflex multiple convoluted diaphragm coupling was introduced in 1971. Since that time, rotating equipment has continued to demand lighter weight and more powerful couplings. Ameriflex couplings are able to satisfy these demands and continue to set new standards for performance and reliability.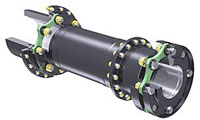 Ameridrives® Couplings is pleased to introduce a new high-end, API-671 compliant disc coupling line for power transmission applications. The coupling was developed using advanced Finite Element Analysis with strain-gage verification in the Ameridrives Test Facility. The result was a coupling with an optimized disc profile that is power dense with a large bore capacity and low reaction loads. A proprietary disc coating is used to help prevent fretting and corrosion further improving coupling performance.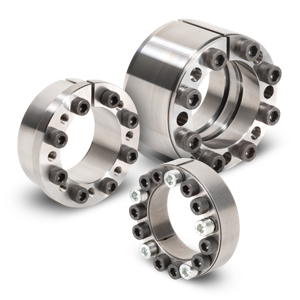 Ameridrives Couplings now offers a full line of Ameriloc internal and external locking devices and shaft couplings. All units are custom-engineered, manufactured, and tested to precise tolerances to meet specific customer requirements and provide years of trouble-free service.
Quality materials and state-of-the-art manufacturing process ensure high reliability. Units eliminate the need for keyways or splines allowing for unlimited shaft positioning. Installation and removal is easy using standard tools. Features include zero backlash, reduced shaft stress, and high contact pressure for greater torque. Tight contact prevents contamination in high dust and moisture environments.
Ameriloc shaft locking devices and couplings are ideally suited for use on wind turbines and test stands. Other industrial applications include printing presses, ski lifts, mining crushers, meat processing, drilling, milling, compressors, pulp & paper, cranes, fans, and steel mills.
All units are pre-assembled, ready to install. Torque range is from 25 to 4303 ft.lbs. (34 to 5,835 kNm). A wide range of standard sizes is available with outer diameters from 12.5 to 53 in. (320 to 1,350 mm), and shaft diameters from 6.5 to 29.5 in. (165 to 750 mm). Additional sizes are available upon request.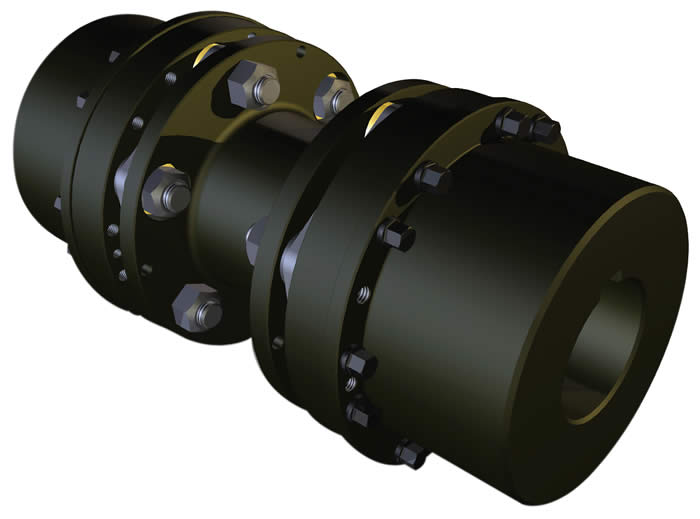 Standard coupling is fully compliant with the requirements of API 610 / ISO 14691
Plug-in spacer design allows installation and removal without disturbing the hubs
Inch series hub attachment screws (Metric available upon request)
Robust disc pack design allows for greater torque load in a smaller coupling, resulting in lower weight
Large bolts for high clamp load, increasing frictional torque load, and reduced bolt bending stress
Max bores matched to NEMA motor shafts, resulting in up to 60% weight savings per application
Smaller diameter and lower weight per HP provide better inherent balance
ATEX compliance is standard — Exll 2GDc135degC(T4)
Built-in Anti-Flail Feature
Zinc Phosphate coating standard
Large hubs available on first two sizes
Compliance with API 671 / ISO 10441 is available