TorpeyDenver is an Authorized Distributor of TB Woods and has been working their product lines for over 25 years and as the application for you application, If you need any On Site Troubleshooting, Installation, Repair or Service, Call or Email us today!
TB Woods offers a large range power transmission equipment for industrial applications. Thier product line consist of synchronous, v-belt, and belted variable speed drives; grid, disk, jaw, gear and elastomeric coupling products; sheaves and bushings, sprockets and clutches. Registered trademarks include Sure-Flex, Dura-Flex Form-Flex, G-Flex and QT Bushing.

TB Wood's Coupling Selection Program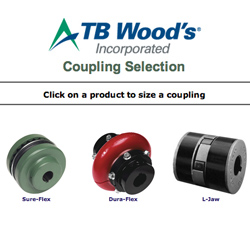 Online Belted Drive Selection Program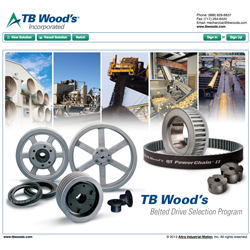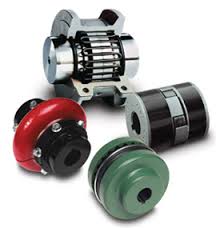 Form-Flex® Couplings
Sure-Flex® Couplings
Dura-Flex® Couplings
Jaw couplings
Rigid couplings
G-Flex Grid coupling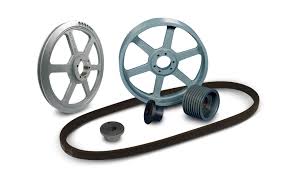 Premium V-Belt Drives
Narrow (Ultra V) Sheaves & V-Belts
Classical (Conventional) Sheaves & V-Belts
Light Duty (FHP) Sheaves & V-Belts
Poly-V Sheaves
Synchronous Drives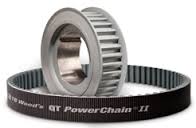 QT PowerChain® II
Synchronous Plus
Timing Belt Drives
QT Power Chain® Synchronous Belt Drives
Variable Speed Drives
Stationary Control (Adjustable) Drives
Motion Control (Variable)
Companion Sheaves
Motor Bases
Clutches and Brakes
NLS® Centrifugal Clutch
Roto-Cam® Mechanical Clutch
Disc-O-Torque® Hydraulic Clutches
Sure-Grip Pulleys
TB Woods story begins  in 1857 as a foundry producing wood burning stoves, then soon after that TB Woods decide to expand and at the turn of the century they designed flat belted drives and line shafting that intern push their business into the power transmission industry. Ever since the 1930s they have and still are the leaders in belted drives, and to expand on their innovations TB Woods introduced quick detachable Bushing system in 1945, then in the 1950s they continued to move forward with the introduction of their new variable speed pulleys and synchronous timing belt drive systems, and Sure-Flex couplings. And with this innovation they have cornered the elastodynamics coupling market.
But TB Woods wasn't finish, and in the 60s the decided to expand into even more markets and the next one on their list was Electronic motor controls, with the introduction of their DC controls specifically designed for harsh manufacturing environments. Then in the 1970s began manufacturing and marketing high torque drives and synchronous belted drive systems which replaced a substantial number of chain sprocket systems.