Part Numbers and Info
G10C0000 – Graphite 10" color touch screen, indoor, 24 VDC powered
G10C1000 – Graphite 10" color touch screen, indoor, 24 VDC powered, additional Ethernet port
G10R0000 – Graphite 10" high resolution display, color touch screen, indoor, 24 VDC powered
G10R1000 – Graphite 10" high resolution display, color touch screen, indoor, 24 VDC powered, additional Ethernet port
G10S0000 – Graphite 10" color touch screen, indoor/outdoor, 24 VDC powered
G10S1000 – Graphite 10" color touch screen, indoor/outdoor, 24 VDC powered, additional Ethernet port
For Red lion Controls G10 Series Installation Solutions, Applications, Programming, or Pricing, Please Call or Email TorpeyDenver an Authorized Distributor!
The Red lion Controls G10 Series is able to deliver you  protocol conversion, data logging and remote access, and you can increase the capabilities of the Red lion Controls G10 Series by adding plug in modules which gives you I/O functions with in the framework. This Series is designed for either indoor applications or outdoor applications.
The Red lion Controls G10 Series has the abilities to notify you via Text or Email alerts. It has also been designed with it own webserver to give you the capability to connect, monitor, and control from any smartphone tablet, or PC around the world. This Model also has Over 250 Built-in Drivers Allows Easy Data Mapping to PLCs, PCs, and SCADA Systems. You can also 10 Base T/100 Base-TX Ethernet Connection can Connect to an Unlimited Number of Devices Via Ten Protocols Simultaneously.
The Red lion Controls G10 Series is designed with all aluminum construction to allow this model to withstand the harshest of environments that you find in different applications. It has a Lithium coin cell which on average gives you a lifetime of six years. The operating temperature range is -20 to 60 °C and a storage temperature range of  -20 to 70 °C. The Red lion Controls G10 Series is CE Approved, RoHS Compliant, and UL Listed.
— USER MANUAL

Graphite Brochure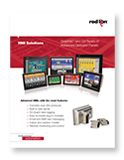 ---