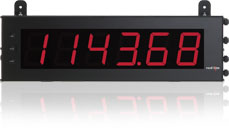 The Large Display Panel Meters is a versatile display available as a DC volt, current, or process meter with scaling, serial communications and dual relay outputs. The 5 digit displays are available in either 2.25" or 4" high red LED digits with
adjustable display intensities. The 2.25" Panel Meters models are readable up to 130 feet.
The 4" high models are readable up to 180 feet. Both versions are constructed
of a NEMA 4X/IP65 enclosure in light weight aluminum. Most of the Large Display Panel Meters are UL Listed.
Large Display Panel Meters Models
LDA - Large DC Volt - Current - Process Display - UL Listed
LDSS - Large Serial Slave Display
LD - Large Display Counter and Rate Indicator - UL Listed
LDT - Large Display Timer and Cycle Counter - UL Listed
EPAX / MPAX - 4" LED, Readable up to 180 ft - UL Listed