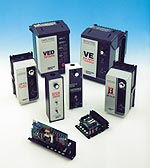 Boston Gear Variable Speed Drives has everything from fractional horsepower AC and DC motor controllers to a complete offering of complementary motors – including Ratiotrol®, the industry's first stock single phase DC drive, Boston Gear is prepared to meet the broad spectrum of your adjustable speed needs. And with a complete line of complementary clutches, brakes, and other accessories available from Boston Gear, we are prepared to serve your motion control product needs.
All of Boston Gear's electrical products come with the kind of comprehensive field support and technical assistance required to simplify the process of reviewing applications and selecting products. In addition, our customer service experts are trained to troubleshoot unexpected difficulties and provide a functional analysis of each controller/motor drive system. And our coast-to-coast distribution network ensures product availability, so you can get what you need when you need it.
Features and Benefits
A broad range of models are sure to satisfy many needs.
Single and three phase DC
Three phase AC
AC and DC motors
Accessory equipment
Standard NEMA 1 and NEMA 4 washdown duty drives and motors increase flexibility.
With virtually all units designed and manufactured in the USA, product integrity is assured.
And backed by the industry's most responsive delivery programs, you can count on receiving your order both on time – and in time.
DC Drives
AC Drives
Motors
---