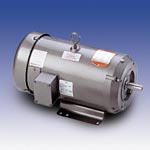 Boston Gear Motors offers a complete line of AC and DC motors to complement the industry's broadest line of enclosed gear drives and adjustable speed controllers. From 1/20 to 1000 HP, Boston has a motor to suit your specific application. And our Guaranteed Same Day Shipment Program will keep your machines running.
Features and Benefits
Boston Gear Motors from 1/20 to 75 HP mean a model for every need.
Boston Gear DC motors from 1/6 to 1000 HP add additional flexibility.
Numerous enclosures and model configurations satisfy a variety of design configurations.
The industry's most responsive delivery program minimizes downtime.
A wide array of complementary AC and DC adjustable speed drives, clutches and brakes, and enclosed gear drives provide a comprehensive selection of uniquely compatible components.
AC Motors
DC Motors
Totally Enclosed Fan Cooled Motors
Totally Enclosed, Non-Ventilated Motors
Open Drip Proof Motors
---